Soldering robot management software

To begin with Soldering IoT from the operational fields
– Soldering Manager

It is very important for the managers at the installation site to grasp and record the situation for the equipment at all times. However, it is difficult to keep monitoring the equipment in operation and the investigation for the cause after the problem occurs are not easy.
Soldering Manager monitors the status of the soldering robot and automatically collects and stores process data.
These data can be used in various ways. This is the very first step to start soldering IoT without special skills.


Samples of soldering process data
・At maintenance:Alarm history of robot/heater, correction records of the iron tip position
・In operation:PCB identity code, LOT number, heater temperature, feeder records, tip shot counts
・Process data:The # of tip shots, number of cycles, the amount of solder feed for single cycle or total cycles, total operational hours and so on.
※In addition, other data can be also acquirable. Please contact us for details.
Software interface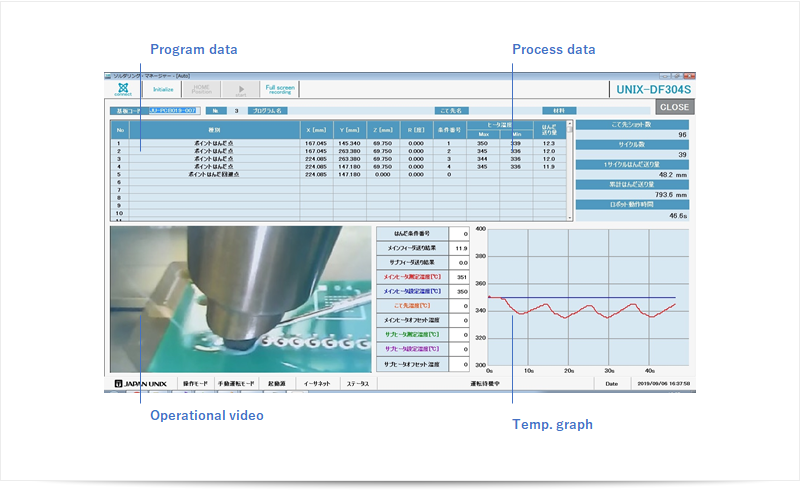 Features
CONNECT

To connect computers, camera modules and thermometer to the robot.

DIGITIZE

To store automatically process data in operation or during maintenance mode.

VISUALIZE

To convert numeral data such as soldering temp. into graphical info.

CAPTURE

To store both numerical data and video dat.a (CSV format and MPEG-4 format)

ARCHIVE

To archive all of process records and to utilize historical data.

EX:CONNECT

To reconnect soldering data with external devices via global standards such as IPC CFX, SEMI and Hermes.
Standard configuration
Soldering Manager software

+

Camera connection kit for Soldering Manager (USB camera, bracket, USB hub and cables)
Reference videos