INLINE SOLDERING ROBOT, SCARA

Speed
Linearity
Flexibility
Supports massive production with fast circular motion

The 5-axis SCARA soldering robot for inline, UNIX-HFR features a fast maximum speed of 7,128 mm/sec with high repeatability, accuracy and rigidity. The UNIX-HFR features an adjustable stroke length of 350 mm, 450 mm, and 550 mm. This robot is suitable for the laser soldering and contact soldering which can be applied with various soldering module. The SCARA type soldering robot can satisfy the mass manufacturing with fast robotic motion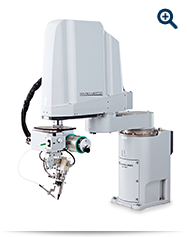 STANDARD CONFIGURATION (for tip soldering)
Soldering controller

Centralized control of all parameters

Solder feeder

Provides highly accurate feeding

Soldering head

For point and linear soldering

Soldering tip cleaner

Air blow type

Heater and temp. regulator

CA sensor built-in special heater

Angle sensor for solder wire

Improves feeding reproducibility

Teaching pendant

Simple and easy for anyone
CONSUMABLES (soldering tips)
Select the suitable one from over 2,500 types
Selecting right soldering tip is the key for qualified outcomes.
The tip must be selected based on a variety of factors, such as circuit board material, components and their size.
Japan Unix has a wide range of high-performance iron tips developed for automation.
Manufacturer custom orders are also available for exclusive works.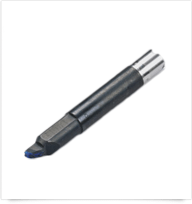 *ATTENTION FOR COUNTERFEITS.
Counterfeit soldering tips are being found over the Internet and unauthorized dealers, etc., please be careful not to be deceived by such tactics.
More information
ADD-ON OPTIONS
Combining our rich array of add-on functions to make things faster, shorter, better quality and accuracy.
3 Available Methods
Iron tips
Laser
Ultrasonic
REFERENCE VIDEOS
[ADDRESS]: 2-21-25, Akasaka, Minato city, Tokyo, JAPAN
Call:+81-3-3588-0551
Contact