SOLDERING AUTOMATION / SELECTIVE SOLDERING
SYSTEM INTEGRATION / SOLDERING ROBOT / MODULES
The Japan Unix provides products for soldering automation, which features many ingenious offerings including inline soldering robot, desktop soldering robot and soldering modules. Those were designed based on our unique soldering method and automation expertise.
The lineup includes a wide array of models, options, and technical methods to allow customers to select the optimum configurations to meet their needs. We provide the best solution for customers facing such issues as lead-free, heat dissipating circuit boards, and high thermal capacity components.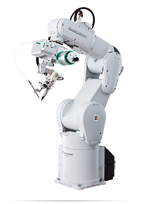 3 WAYS TO AUTOMATE SOLDERING WORK
ADD-ON OPTIONS
Combining our rich array of add-on functions to make things faster, shorter, better quality and accuracy.