Soldering heads for contact, Feeders, Controllers and Cleaners
Customers can choose some of our soldering units. There are some basic combinations in order to install automated soldering on the existing machines. A soldering head, a solder feeder and a contoroller are necessary for contact soldering. Laser soldering will need a solder feeder and a controller. In the case of ultrasonic soldering, a soldering head and a solder feeder must be added on. Cleaners will extend tip life and will enhance output quality due to the elimination of impurities.
*Some combinations are not possible depending on the unit.
*Some options are not supported by some units.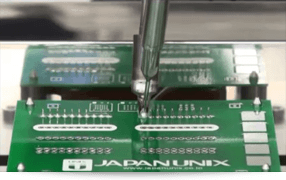 SOLDERING HEADS

SOLDER FEEDER

CONTROLLERS

TIP CLEANERS
SOLDERING HEADS
For point and linear soldering (iron tip type)
Soldering head (standard)
UMC-087A

・

Easy to maintenance (soldering tip, heater)

・Shock absorbing mechanism
・Press-down soldering is possible
・Angle set with memory

・

413/4R, 413/4S standard specification (excluding 412R)

Soldering head (compact)
UMC-086S

・Small & lightweight
・Shock absorbing mechanism
・Press-down soldering is possible
・412R standard specification
PAGE TOP▲
SOLDER FEEDER
Solder wire supply feature
*Patented

Solder feeder (standard)
UPM-011A

・Supports φ0.5-1.2mm (φ0.3, 0.4 possible)
・Shortage & jam sensor
・410R, 410S standard specification

Solder feeder (large diameter)
UPM-022

・Supports φ1.6-2.0mm
・Shortage & jam sensor

High precision feeder

・For ultrafine & micro soldering
・5 stepping motor
・Supports φ0.15-1.0mm
・0.072mm/pulse
・Shortage & jam sensor

Clean cut feeder

・Prevents flux spattering, solder balls
・An add-on option
・Shortage & jam sensor
・Double blade (patented)
PAGE TOP▲
CONTROLLERS
Soldering implementation and management
Soldering controller
USC-881/881S

・Developed for automatic soldering
・Monitoring the tip temp.
・Easy operation
・2,032 conditions
・410R Standard specification
PAGE TOP▲
TIP CLEANERS
Tip fouling removal
Air blow type cleaner
UJC-214II

・Air blower, vacuum type
・Reduces debris scattering
・Built-in solenoid valve
・410S/R, 700 Series standard specification

Brush cleaner

・Double brush cleaner
・Removes hard carbides and tin oxide
PAGE TOP▲