Laser soldering robot
The technology makes possible automation where previously not practical.
Technology is evolving quickly. Mainstream is no longer applicable as evidenced by the emergence of ultrafine electronic circuit boards and multi-layered electrical components. Laser makes possible ultrafine area and other types of soldering that are difficult using tip soldering, which drives enormous advantages. Before adoption of new technology, read laser soldering method to understand differences from contact soldering method.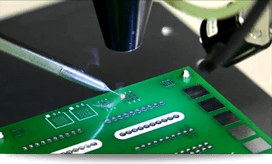 LASER SOLDERING ROBOT (standard configuration)
Operation and control
Features

・

Visible shooting position*

・

Coaxial CCD camera*

・Software controlled shutter

・

30W, 45W (optional 15W, 75W )

・

Level 4 laser classification, requires safety cover.

* Patented

Application sample (SCARA robot)

Application sample (Desktop robot)

Controller

Oscillator

Laser soldering head
Exposure Position Mark for laser soldering
Line Type

Exposure position marks

Square Type

Exposure position marks
Both above exposure position marks for laser soldering and coaxial observation system for specifically laser soldering are our owned technical patents.
Patent Number: No. 2000-191109
*Please note that we HAVE NOT loaned or given permission to other companies to use this.
*We DO NOT tolerate for any patent infringement
Laser soldering mechanism
Contact soldering method,"Thermal conduction" and "surface heat generation" for laser have different heating principles. Both laser and soldering characteristics must be understood and well-handlled, otherwise the advantages of each method won't be realized. The first main is to use it with careful consideration about heat application conditions. It is actually an established technique, and depending on the way it is used.
Read more
REFERENCE VIDEOS
0:19

Laser Soldering robot
The view of coaxial camera

This video shows soldering on ultrafine components by laser. Find its high-speed and accurate jobs done.

0:36

Variant Laser Shapes
Comparison of circle and ring laser

Different beam shapes are suited for different circuit boards and parts. Here, we show what happens when you choose the wrong beam shape.
Other laser soldering solutions to meet extra requirements
Multi-φ laser

Variable laser spot diameter Optimizing the best condition to each component

Variant shape

Variant laser spot
Adjustable diameter and shapes