HIGH PERFORMANCE SOLDERING ROBOT : UNIX-410 Series
The premium model that achieves fast, precise, and high-quality soldering operation.
Offering two slim types of high performance soldering robots that letting our customers choose the best one to fit their objectives. Both come with a clean cut feeder and lock-on mechanism, which are the most popular automatic option, for higher precise works. The model is excellent for durability and repeatability that achieves in cellular manufacturing. In addition, UNIX-410S has mounted "Kaizen" and "Poka Yoke" functions to maintain output quality and the speed of production.
This high performance soldering robot 410S is able to improve over 15% in cycle time. One of three major soldering methods,
contact soldering, laser soldering or ultrasonic soldering is available
UNIX-413S

Mid-size soldering robot

・For work up to 300mm x 275mm
・Solder feeder with 5 stepping motor
・Improve detection sensor of solder shortage
& jam
・Integral onboard controller
Features
・Reduce cycle time by approx. 15%*

10-point:
14.3% cycle time reduction

50-point:
15.6% cycle time reduction

・feeding precision
・Slim & compact

*Versus other firms. May differ based on soldering environment and conditions.
STANDARD CONFIGURATION (for tip soldering)
Onboard controller

Controls robot motions and soldering operation

Precision solder feeder

The resolution of 0.072mm/pulse (for φ0.5-1.5mm wire)

*Patented

Clean-cut feeder

Reduces flux splatter and solder balls

*Patented

Lock-on mechanism

Ensures steady feeding position and prevents slippage

Iron tip cleaner

Air blower type

Heater and temp. regulator for robotics

Special heater and temp. regulator with CA sensor

Soldering head

For point and linear soldering

Teaching pendant

Easy control and configuration
CONSUMABLES (soldering tips)
Select the suitable one from over 2,500 types
Selecting right soldering tip is the key for qualified outcomes.
The tip must be selected based on a variety of factors, such as circuit board material, components and their size.
Japan Unix has a wide range of high-performance iron tips developed for automation.
Manufacturer custom orders are also available for exclusive works.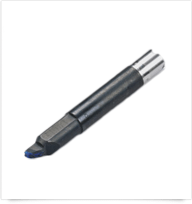 *ATTENTION FOR COUNTERFEITS.
Counterfeit soldering tips are being found over the Internet and unauthorized dealers, etc., please be careful not to be deceived by such tactics.
More information
ADD-ON OPTIONS
Combining our rich array of add-on functions to make things faster, shorter, better quality and accuracy.
REFERENCE VIDEOS
3 Available Methods
Iron tips
Laser
Ultrasonic