Product details
High precision feeder

Brush cleaner

High thermal capacity heater

Solder wire heater
HIGH THERMAL CAPACITY HEATER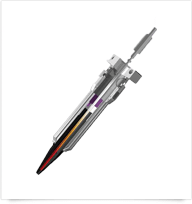 The heater will keep temperature of iron tips during operation.
Achieving resilient and high power unit at the same time.
Ideal for components that require large heat capacity. This is a dedicated heater, which was carefully calculated heat conduction, heat capacity, and thermal efficiency for automated soldering.
* Soldering unit may differ depending on the heater you are using.
Detachable heater with CA Sensor

Detachable high capacity heater Type

Cartridge type with an iron tip
PAGE TOP▲
SOLDER WIRE HEATER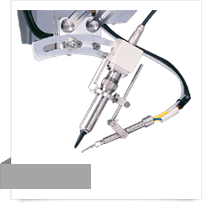 *Patented
This heater prevents flux dispersion and solder balls.
The heater decreases solder balls and flux dispersion issues resulting from heat shock, and is also effective at shortening cycle time.
PAGE TOP▲
BRUSH CLEANER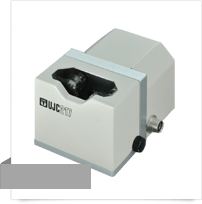 *Patented
The cleaner removes hard carbides for longer tip's life.
This automated cleaner for irons tip that removes carbides, stannous tin oxides, and other impurities caused from soldering operations.
PAGE TOP▲
HIGH PRECISION FEEDER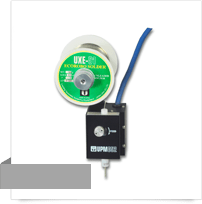 *Patented
This high precision solder feeder is suitable for micro soldering tasks. It's been succeeded in quantity management of only 0.1mg / point and ultrafine wire!
It controls feeding solder wire for superfine works such as high density circuit boards, smart phones and other micro components. This premium feeder manages φ0.15 mm solder with the resolution of 0.072 mm / pulse.
0:22

High precision solder feeder

Observing solder supply conditions using a high-speed camera.
Smoother motion enables manage extremely small components.
PAGE TOP▲