Choose the best laser spot shape to fit components and land shapes
Inadvertent burning of circuit boards or other troubles can be prevented by adjusting appropriate laser shapes such as an oval (ellipse) or a ring-shape. In addition, a beam-splitting technology provides "twin-spot laser", which enables the simultaneous soldering of two joints.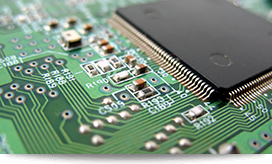 Various laser beam spot shapes *Patented
Circle Type

Oval Type (Ellipse)

Square Type

Patented

Ring Type

Patented

Oval Ring (Elliptical Ring)

Twin Type
Choose the laser type most suitable to the customer's board pattern and components.
For example, if the pad has an ellipse shape, expose it with the oval type. Also, if the through-hole has black resin or other components on the back, use the ring type to prevent the laser burning it.

Why don't you consider to choose laser beam shapes, alike choosing tip shapes for manual soldering?
For example, the oval ring beam should be used on an oval-shaped pad. If a through-hole component is underlain by another component or black resin, the ring-type beam should be used to prevent burning by the laser.
Laser soldering mechanism
'Contact soldering method,"Thermal conduction" and "surface heat generation" for laser have different heating principles. Both laser and soldering characteristics must be understood and well-handlled, otherwise the advantages of each method won't be realized. The first main is to use it with careful consideration about heat application conditions. It is actually an established technique, and depending on the way it is used.'
Read more
REFERENCE VIDEOS
0:18

Robotic Laser Soldering
Comparison of ring and normal lasers

Different beam shapes are suited for different circuit boards and parts. Here, we show what happens when you choose the wrong beam shape.