Optimizing laser exposure diameters to fit any component size or board patterns
Laser beam spot diameters are adjustable without moving. The variable spot diameters allow ideal soldering outcomes to diverse component shapes or various land patterns. Due to designing the best conditions to each, not only quality but also speed is enhanced.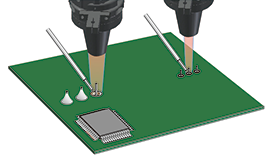 IMMOBILE

Beam spot diameters are adjustable

within the range, 0.1-3.0mm.

・The range of diameter is determined by optical fibers and lens configuration.
・Laser's output power is efficiently converted into thermal energy.
・The robot's z-axis (vertical) stays fixed when adjusting the beam diameter.

FLEXIBLE

Supports a variety of soldering patterns,

components shapes or sizes

・Supports a variety of soldering patterns
・Optimal soldering conditions for all patterns
・Solder wire is fed from any directions with new feeding mechanism

OPTIMIZATION

Optimal conditions for all patterns

improves quality and cycle time

・By optimizing soldering conditions for the entire circuit board, the equipment achieves the shortest laser irradiation period.
・Mixed-component assembly PCBs can now be processed with just one machine.
・Optimized soldering for each component provides better quality.
Multi-φ Laser Overview
Name: Multi-φ Laser Soldering System (Multi-phi Laser)
Dimensions: 214mmx120mmx92mm
Power Supply: single-phase 220V±10%
Positioning System: coaxial observation using a CCD camera *1
Laser Power: 25W~75W (selectable)
Laser Exposure Diameter: Min. 0.1mm, Max. 3.0mm
Laser Exposure Distance: 30-120mm (1.18-4.72in)
Beam diameter : 0.1?3.0mm (0.004-0.12in)*1
Note: For customers already using our laser soldering, replacing new laser head is available. Please contact us regarding refinement and improvement of existing equipment.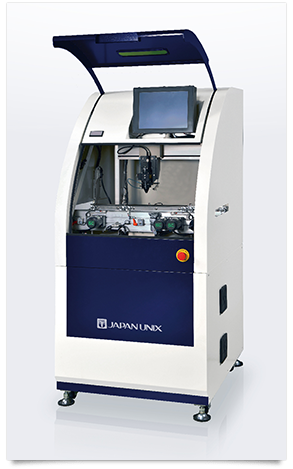 Sample of a multi-phi laser system-mounted apparatus
Changing diameters takes only 0.2 sec.*1. optimization will never negatively affect cycle time.
*1:The exact time may vary depending on users circumstances
Max. diameter φ3.0mm

Min. diameter φ0.1mm

Once conditions are set, beam diameters are adjusted automatically according to each pad size.
REFERENCE VIDEOS
1:51

Typical failures caused from inappropriate diameter

Reasons and why a wrong choice of laser beam diameter easily causes you typical soldering problems