Our action for product authentication
For the sake of providing safe,secure,stable and traceable product for customers, we are pleased to inform you that we introduce the QR code seal for product authentication by smartphone application from April 2019.
Customers can download the smartphone application and scan the QR code seal attached on the case of product to confirm its authenticity.
Designated product for authentication
Tips for soldering robots (AH, BHS, BHL series)
▼Image: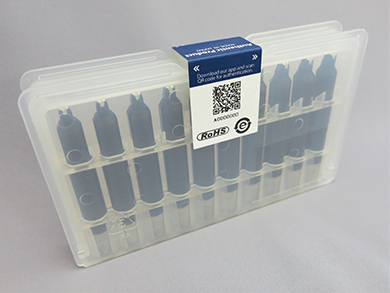 Mode of use
1. Download the JAPAN UNIX application from APP store or Google Play.
▼Download here

For iOS(iPhone/iPad)

| Constitutions | Environment |
| --- | --- |
| OS | iOS7.0 or later |
| CPU | Dual Core 1.3GHz or up |
| RAM | 1GB or up |
| Communication | GPRS/2G/3G/4G/Wi-Fi |
| Camera | More than 8 MP |

2. Activate the application and click the 'QR code Identification'.
3. Scan the QR code attached on the package of product.

Authentication results
In case of appearing the display "Caution" as below, the product can possibly be of the counterfeit.
*Authentication is available up to 3 times per 1 QR code seal.
*The same display would appear "Caution" when the QR code is scanned more than 3 times.
Inquirey
In case of finding possible counterfeit or product without authentic seal, please kindly contact us by WEB form or by phone.
https://www.japanunix.com/en/form/contact.php
Restriction of use
*Since this system is designed only for end-customers' use, avoiding distributors' or resellers' implementation is highly appreciated. *Due to General Data Protection Regulation; GDPR , this application can not be downloaded and used in the European Union (EU), the European Free Trade Association (EFTA) or the European Economic Area (EEA) area.