Always master soldering, with cutting-edge solutions from Japan Unix
– today, tomorrow, and under any circumstances.
About Us
When Japan Unix was founded in 1974 by Shozo Kono, the company developed soldering tips and hand soldering solutions. But from the very beginning, the founder had his sights set on the future. Anticipating developments like automation and agile manufacturing, the company five years later created SOLMAC, the world's first soldering robot...
Our Products
Laser Soldering
While iron tip soldering has been around for centuries, laser soldering is still a relatively new technology. Japan Unix developed the world's first laser soldering system, the 410R Series, in 2002. Since then, it has become increasingly popular as an alternative to iron tip soldering. Laser soldering will not simply replace iron tip soldering – both methods have their unique advantages and applications. But as electrical parts become more intricate and ubiquitous, laser soldering is becoming more and more relevant for a host of different industries...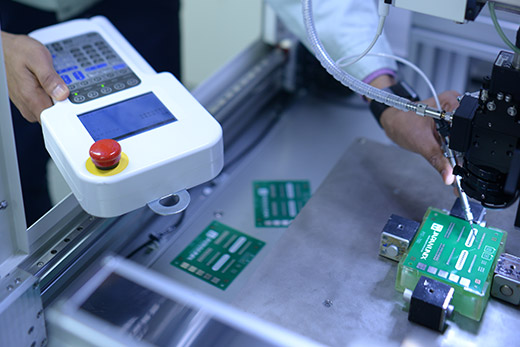 Robotic Soldering
For many industries, production automation has been a staple for years. Yet, they have been somewhat slow to pick up this trend for their soldering operations. The first soldering robot, the "SOLMAC", had been developed by Japan as early as 1979, with the five-axis Unix-511 following in 1985. Since then, Japan Unix has consistently been on the forefront of automated soldering, incorporating new demands and technologies such as lead-free soldering, laser soldering, and ultrasonic soldering into their product portfolio...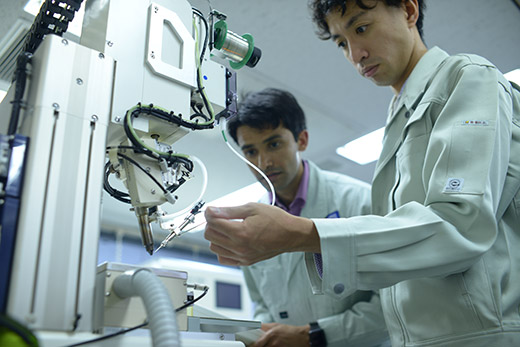 Our Team
Throughout its history, Japan Unix has launched ground-breaking technologies in the face of many difficulties. The family business was able to do this for two reasons: the founding father's clear company vision, and a strong and committed team behind the scenes. From the outset, sales, soldering engineers, and assembly have been working closely together to achieve the best solutions for our customers.
Our management philosophy is to pursue safety, reliability and stability
Hirofumi Kono, President