MANUAL / HAND SOLDERING (with automatic solder feeder)
Black Solder Jr.Series (discontinued)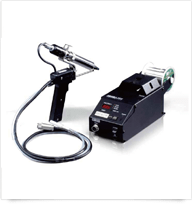 High power soldering station with automatic feeder Black SOLDER Jr.III
A high power station, 150W or 300W, integrated with automatic feeder function, that is ideal for high heat capacity work operation.
Heater PW: 150W and 300W
FEATURES
For optimization

Solder Jr series supplies solder wire with just one click, which allows you to easily adjust quantity and delivery speed. Soldering quality will be stabled and enhanced due to the fixed solder amount for each point.

Pencil or Pistol

Solder Jr is now available for two types of pencil (PN) type and pistol (PS) type. Choose a type to suit your preference or soldering works. * Black Solder Jr. is only pistol type.

Work accuracy

Due to automatic soldering feeder, operators can use both hands for operation such as holding a component or wire with another hand. Furthermore, by using a foot controller, both hands will be freed for even more miniature works.
CONSUMABLES (soldering tips)
Select the suitable one from over 500 types
Selecting right soldering tip is the key for qualified outcomes.
The tip must be selected based on a variety of factors, such as circuit board material, components and their size.
Japan Unix has a wide range of high-performance iron tips developed for automation.
Manufacturer custom orders are also available for exclusive works.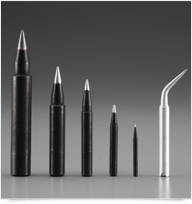 *ATTENTION FOR COUNTERFEITS.
Counterfeit soldering tips are being found over the Internet and unauthorized dealers, etc., please be careful not to be deceived by such tactics.
More information